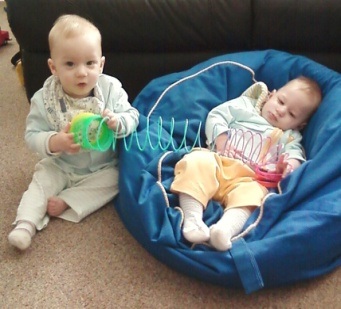 Reece and Seth Burrows were born 4 weeks early on the 31st May 2010 fit and healthy, however 3weeks later and they were fighting for their lives in the Royal Victoria Hospital for Sick Children  due to a simple virus. We owe a lot to the staff and equipment that kept both our boys alive, and for making the difficult situation as easy on us as possible. We also had a lot of people who kept the boys and their extended families in their thoughts and prayers, without all of this they may not have been here today.
So with your support we would like to give something back, that is why we are holding a Tea/coffee morning and Car Wash on Saturday 28th May 2011 from 10am-12 noon at Scarva Street Presbyterian Church Hall, Banbridge in aid of P.I.C.U and the Allen Ward, Royal Victoria Hospital for Sick Children.
So please come along and bring a friend to help us say THANK YOU!
We really hope you can come and look forward to seeing you there.
The Burrows & Stevenson Families.