The club held their annual prize giving at the Millbrook Lodge Hotel on Saturday 21st February 2015, celebrating the top competitors at our 2014 events.
Seven trophies were presented on the night, recognising the top finishers at the second round of the 2014 Ulster Open Motocross Championship, hosted by the Mourne club at Seaforde Moto Park on May Day 2014.
Ballynahinch man Roy Neill compered the night, announcing the winners, along with a special recognition award for Mourne club members Ricky Portis and Roy Beattie, both from Lisburn, who represented Ireland at the Sidecarcross of Nations in Italy last year.
The Bertie Campbell Memorial Cup was presented to Dromore man Stephen Poots, who went on to finish second overall in the Ulster Grade C MX1 Championship.
Dromore's Jack Wilson, who eventually finished runner-up in the 2014 Ulster Grade C MX2 Championship, received the Harry Palmer Perpetual Trophy to recognise his success at Seaforde Moto Park.
The Harry Palmer Memorial Cup was presented to Crossgar's Mark Patterson, who had won the 2014 Ulster and Irish Grade B MX2 Championships.
The Seaforde Cup, presented on behalf of track owner Norman Green, was awarded to Dromara man Samuel Donnelly, who had won the Ulster and Irish Grade B MX1 Championships.
The Herron Cup was awarded to Ballygowan Grade A MX1 rider Gary Gibson, who was unable to make it on the night, so his award was collected by Ben Kennedy from Seaforde.
Larne man Glenn McCormick who won the Ulster Expert MX2 Championship and had led the Irish Championship, before a broken leg ended his season, was awarded the President's Cup.
The final award for the most active club member, The Norman Campbell Memorial Trophy, was presented to Lisburn man Richard Portis for his work during 2014.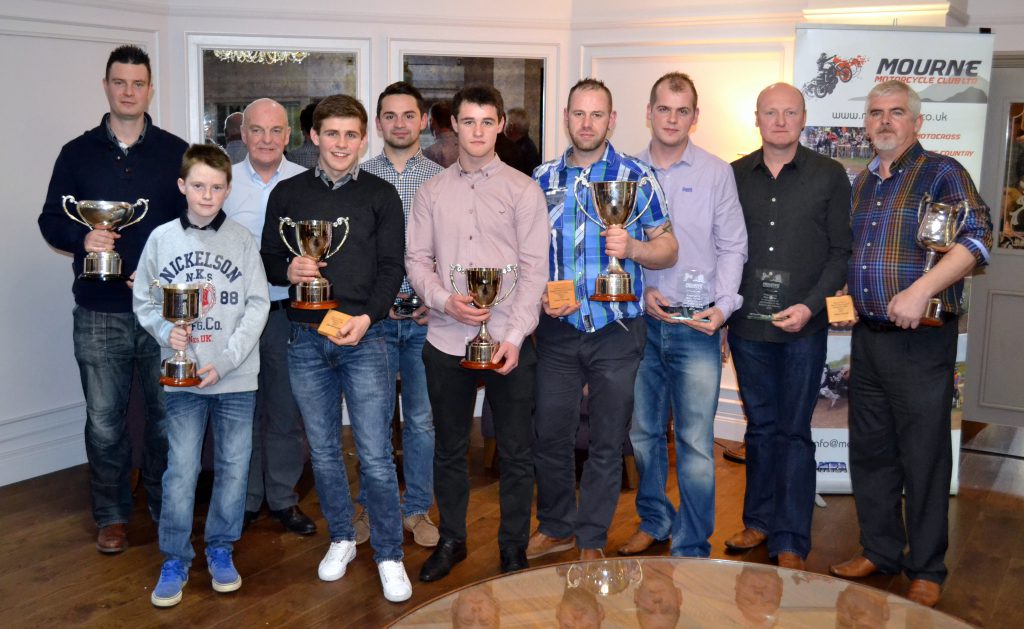 Prize Winners for 2014 season with Club Chairman; Billy McLarnin (L to R) Stephen Poots, Ben Kennedy (received on behalf of Gary Gibson), Billy McLarnin (Chairman), Glenn McCormick, Mark Patterson, Jack Wilson, Samuel Donnelly, Ricky Portis, Roy Beattie, and Richard Portis
More photos can be viewed in our online gallery by clicking here