In the lead up to the 2011 Motocross Season and to celebrate The Mourne Motorcycle Club's 2010 events we held our annual prize giving in the Millbrook Lodge Hotel, Ballynahinch, on Saturday, February 26th.
Like so many motocross events the evening was made complete with Roy Neill, the voice of Ulster and Irish motocross, as compere and the Mourne club's very own Chairman John Bassett helping to present the trophies to the riders who had earned the best results at our events in the 2010 season.
In the Grade C Championship we split the riders into three groups to compare their results for three different club trophies. The first prize to be presented was the Bertie Campbell Memorial Cup which was won by Chris Lynd from Ballygally, Larne, and this was presented by two of Bertie Campbell's grandchildren Paul and Stuart. Richard Topping was the second Grade C winner and he was presented with the Presidents Cup by John Bassett. The third Grade C winner was Martin Portis Junior, who received the Harry Palmer Memorial Cup from John Bassett.
After all of the Grade C winners had received their awards John Bassett presented the Harry Palmer Perpetual Trophy to Magheralin's Mark Dynes for his results in the Mourne club's Grade B races.
The next trophy was also collected by a Grade B rider who had won the 2010 Ulster and Irish Grade B Championships and taken the best results in his class at Seaforde Motopark. Loughbrickland's John Meara was presented with the Seaforde Motocross Park Perpetual Trophy by Seaforde Motopark owner Norman Green.
The Norman Campbell Memorial Trophy was the last trophy to be presented and this goes to the most active Mourne club member and this year the trophy was won by Annacloy man, Matthew King.
The one award that was not presented on the night was the Mr and Mrs John Herron Cup, as Ballygowan Grade A rider Gary Gibson was not available to collected his prize.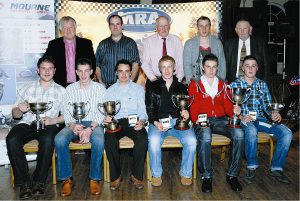 (More photos will be added to the gallery shortly…)