The Mourne Motorcycle Club will host the second round of the 2012 Ulster Open Motocross Championship at clubman Norman Green's Seaforde Moto Parc, on Monday, May 7th.
The day's racing at the popular Seaforde track will be interesting for the riders and great viewing for spectators, as the riders will race the track in the opposite direction from normal. Due to the continued generous sponsorship, the riders will also be competing for a total prize fund of over £3000 compared to the usual £2070, which will be shared between the top six finishers in the championship races.
Along with the motocross action the Ballynahinch Lions will be holding a retiring collection on the day for their chosen charities for 2012.
Coming into May Day, after the first round of the championship at Desertmartin, Comber's Wayne Garrett is leading the MX1 Expert class and the MX2 Expert class is led by Graeme Irwin from Ballyclare. The two championship leaders will be trying to stake their claim for the honours against the top local riders, which will include Newtownards man Gordon Crockard, who currently lies in fourth in the MX1 Expert class.
This year the Mourne club is holding the event with support from B.L.R.C. Landrover Specialists, Saintfield Livestock Market, Brent Dorman John Deere Engineer, Carmedic Saintfield, Brennans Service Station and The Stick Restaurant, McKibbins Motors, Noel Cochrane Car Sales and Spares, Frenchies Mace, Clough, Bore-a-hole, Kane Trailers in Ballynahinch and Watson's Flowerstop in Ballynahinch.
On the day the bikes will be out on the track from 9.30am. Entry to the event will cost £5 for adults, while children go free and car parking is also free.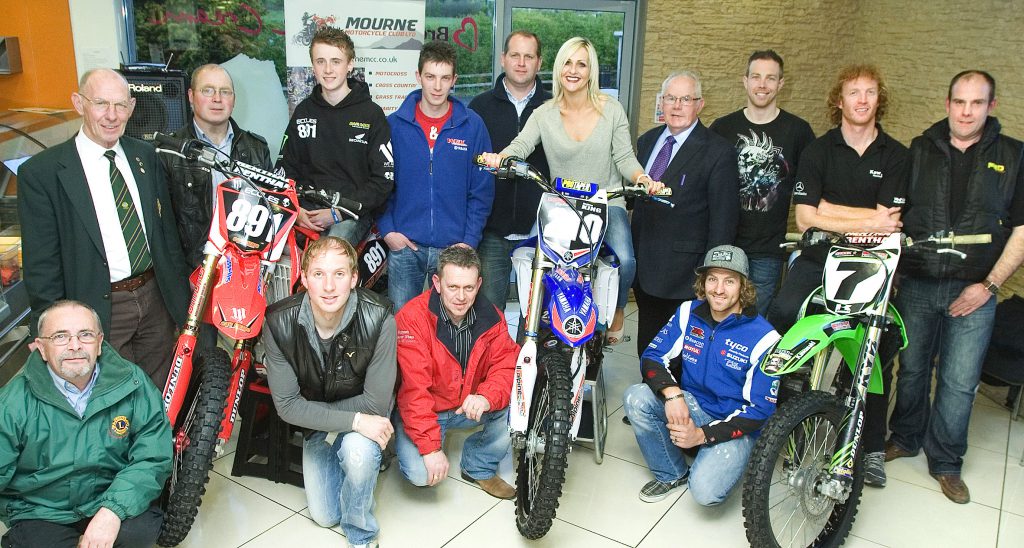 Photo © Pat O'Hare
(Left to Right): Back Row: Ballynahinch Lions Club Vice-President; Richard Scott – Mourne Club members/Riders; Terry McCann, Chris Eccles, Matthew King – Sponsors; Mark & Donna Cochrane – Patsy Toman; local councillor – Sponsor; Richard Watt – Rider; Gordon Crockard, Newtownards – Mourne MCC Chairman; John Bassett.
Front Row: Ballynahinch Lions Club Member; Peter Hughes – Rider; Wayne Garrett, Comber – Sponsor; Stephen Watson – Rider; Josh Brookes.