The Ulster Motocross Championship returns to County Down on Monday, May 4, when the Mourne Motorcycle Club will host their annual May Day motocross event.
The Mourne club will be hosting the second round of the 2015 Ulster Motocross Championship at clubman Norman Green's Seaforde Moto Park.
The first round of the championship was held at Desertmartin, Cookstown, on April 6 and there will be County Down men competing for top places in every class at Seaforde.
Comber man Wayne Garrett leads the Grade A MX1 class after two wins and a second placed finish at Desertmartin. He is followed by Lisburn's Richard Bird and Portavogie man Robert Hamilton.
Speaking at the launch, Ulster and Irish Championship leader Wayne Garrett said, "So far I've had a really good start to the season.I'm trying to enjoy it and have fun, as it makes a big difference if you get the bike right and enjoy it. I know you can't win every race, but I feel like I'm back to where I was a few years ago. The more races you win, the more you feel that you should be at the front," he said.
In the Grade A MX2 class Loughbrickland's Jason Meara leads Ballyclare man Glen McCormick by three points after they finished first and second in every race at the first round.
The Mourne club is holding the event with support from Brennan's Service Station and Stick Restaurant, Bannside Pallets and Noel Cochrane Car Sales and Spares, along with help from the Ballynahinch Lions on the day.
Bikes will be out on the track from 9.30am and entry to the event will cost £5 for adults, while children go free and car parking is also free.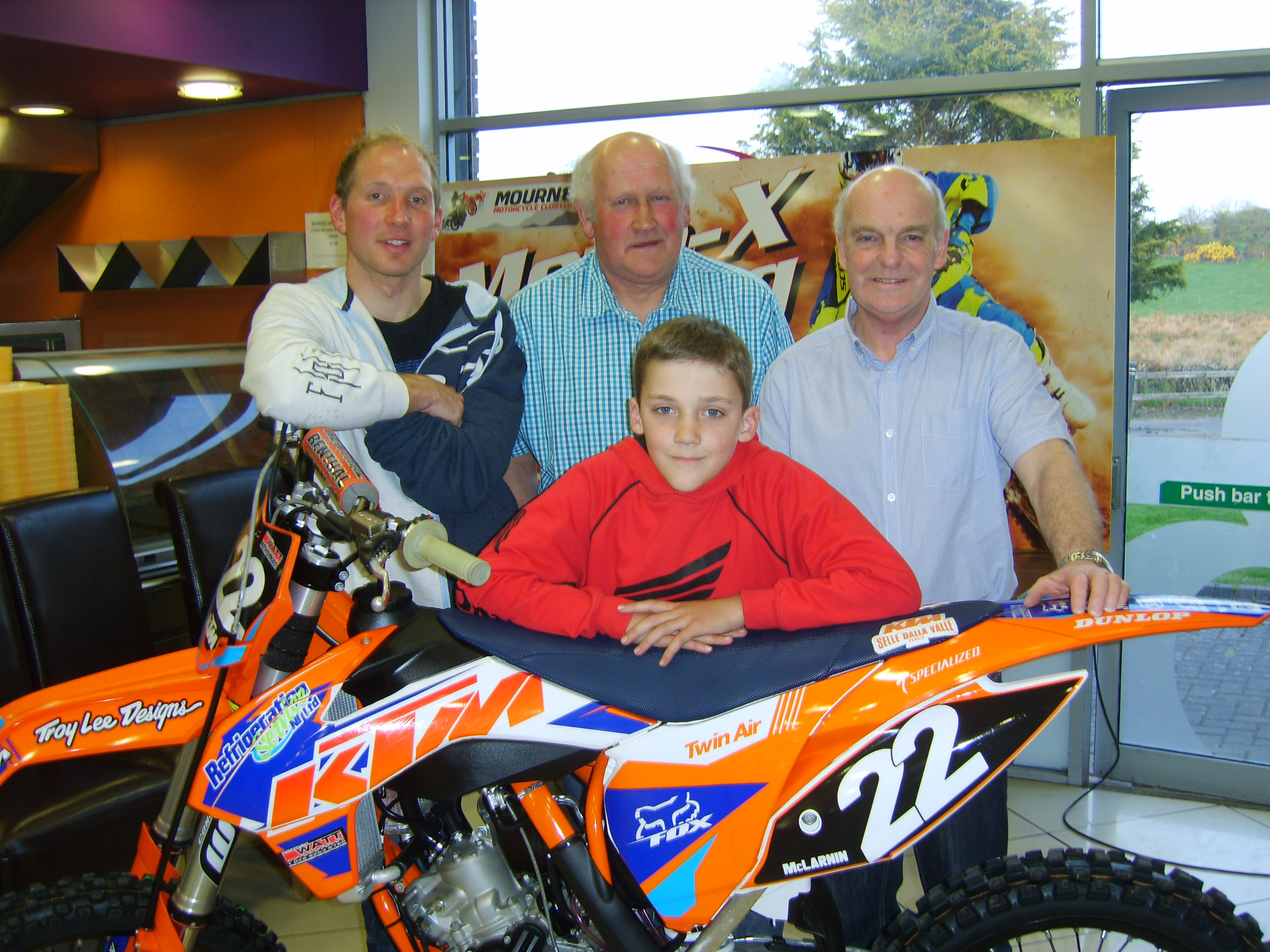 Back row – Wayne Garrett, Norman Green and Mourne Club Chairman; Billy McLarnin.
Front row – Schoolboy motocross competitor Nathan Green.