The Mourne Motorcycle Club will host the second round of the 2013 Ulster Open Motocross Championship at clubman Norman Green's Seaforde MotoPark, on Monday, May 6th.
The first round of the championship was held at Desertmartin on April 1 and coming into round two Ballygowan man Gary Gibson is leading the Grade A MX1 class, with Comber's Wayne Garrett in second. There will be Mourne Club members fighting for top positions in the Clubman's MX2 class; Boardmills man Chris Eccles is leading the way with Downpatrick man; Alexander Ellison in fifth position in the championship.
Along with the motocross action the Ballynahinch Lions will be holding a retiring collection on the day for their chosen charities for 2013.
This year the Mourne club is holding the event with support from BLRC Landrover Specialists, Saintfield Livestock Market, Brent Dorman John Deere Engineer, Brennan's Service Station and Stick Restaurant, McKibbin Motors, Noel Cochrane Car Sales and Spares, Frenchies Mace in Clough, Bore-a-hole, Kane Trailers in Ballynahinch and Watson's Flowers in Ballynahinch, along with help from the Ballynahinch Lions.
Along with a substantial prize fund up for grabs on the day, there will be a bonus £50 draw for one rider from the last block of races on the day who did not finish in a prize winning position. This draw will take place at random and anyone who rides in the last block of races from the 4 classes (Grade A, Grade B, Grade C MX1 & Grade C MX2) who did not receive prize money could be in line for winning £50.
On the day the bikes will be out on the track from 9.30am. Entry to the event will cost £5 for adults, while children go free and car parking is also free.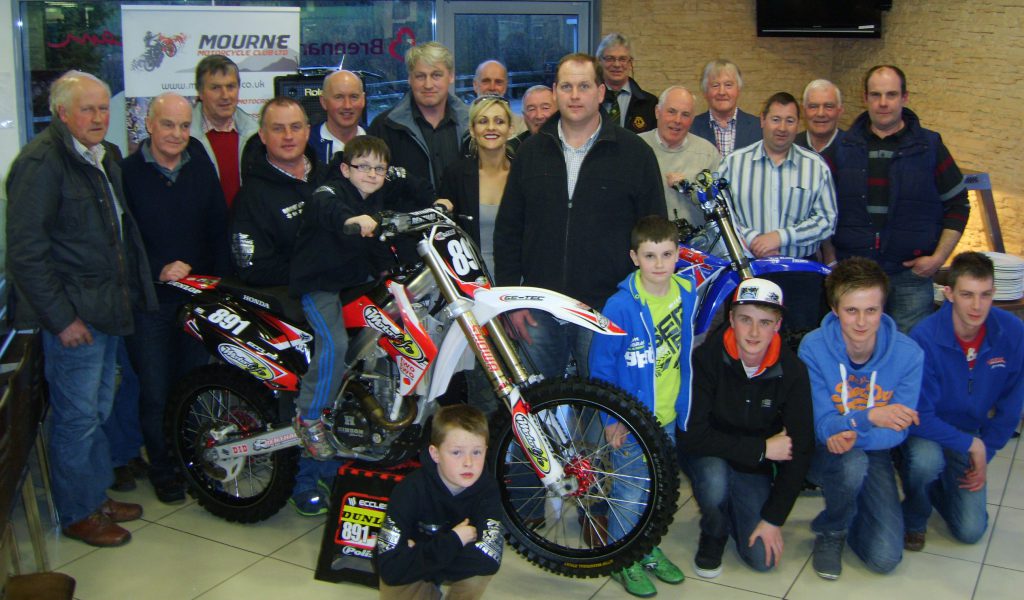 Photo © Stuart Campbell
(Left to Right): Back Row: Norman Green; Track Owner, Billy McLarnin; Mourne MCC Chairman, George Porter, Roy Kennedy & Sons; Rider, Robert Gibson, Roy French; Sponsor, Arthur McMullan; Mourne MCC Member, Donna & Mark Cochranes; Sponsors, Francis Casement & Colin McKurdock; Ballynahinch Lions Members, Tom Simpson, Roy Neill, Andrew Shields, Junior Burrows, & John Bassett; Mourne MCC Members
Front Row: Adam McMullan, Chris Eccles, Alexander Ellison; Riders & Matthew King; Rider & Mourne MCC Vice-Chairman
Competitors please note; no entries will be taken on the day; chain guards must be fitted to all bikes; and noise testing will be enforced on ALL bikes.
For event competitor entry forms, please follow this link
For direction please click here
If there is anyone who is available to offer their services as a flag marshal, please get in touch with Andrew Shields on 07850 411 955. Lunch will be provided on the day, expenses will be paid and all marshals will be entered into our £25 bonus draw for two lucky flaggers.