The Mourne Motorcycle Club will host the second round of the 2014 Ulster Open Motocross Championship at clubman Norman Green's Seaforde MotoPark, on Monday, May 5.
The first round of the championship was held at Desertmartin recently, on April 21. There will be County Down men fighting for top positions in every class in the second round, including Grade A rider Gary Gibson, from Ballygowan, and Downpatrick man Alexander Ellison in the Grade B class.
Along with the motocross action the Ballynahinch Lions will be holding a retiring collection on the day for their chosen charities for 2014.
This year the Mourne club is holding the event with support from Noel Cochrane Car Sales and Spares, McKibbin Motors from Clough, Brennan's Service Station and Stick Restaurant, Saintfield Livestock Market and Frenchies Mace and Bistro in Clough, Watsons Flowerstop in Ballynahinch, James Mullan Auto Engineers from Crossgar, along with help from the Ballynahinch Lions.
On the day the bikes will be out on the track from 9.30am. Entry to the event will cost £5 for adults, while children go free and car parking is also free.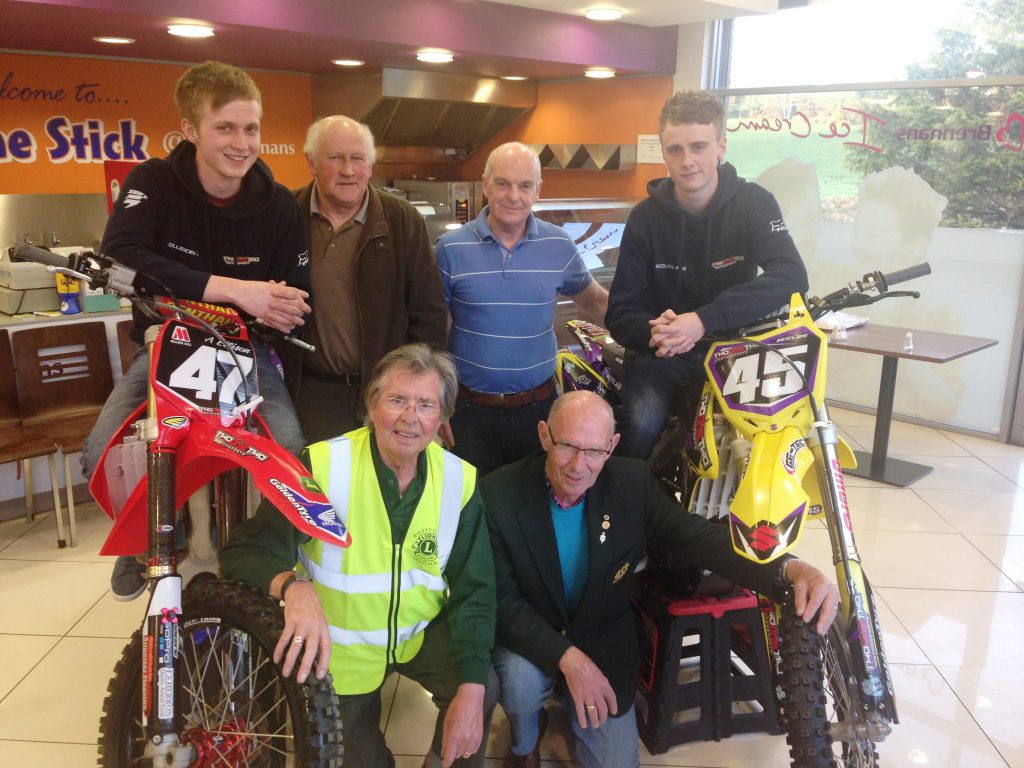 (Left to Right): Back Row: Rider; Alexander Ellison, Norman Green; Track Owner, Billy McLarnin; Mourne MCC Chairman, Rider; Chris Eccles 
Front Row: Ballynahinch Lions Club Members
Competitors please note; no entries will be taken on the day.
For event competitor entry forms and online entry, please click here
For direction please click here