The club held their annual prize giving at the Millbrook Lodge Hotel on Saturday 22nd February 2014, celebrating the top competitors at their 2013 events.
The evening was compered by Roy Neill, with local racing team 212 Motorsports taking four awards.
In 2013 the team, owned by Downpatrick man John Bassett, sponsored Grade C riders Alexander Ellison, from Crossgar, and Boardmills man Chris Eccles.
Ellison was presented with the Bertie Campbell Award for winning Grade C red class at the Mourne club's Leitrim race, while Eccles won the Seaforde Motocross Parc Cup after he finished top of his class at the club's May Day Ulster Championship round at the track.
As a Mourne club member Eccles successful racing season was also recognised with a special award for winning the Ulster and Irish Grade C Motocross Championships in 2013.
Not to be left out team manager John Bassett received the Norman Campbell Award recognising his work within the Mourne club and the sport in 2013.
On the night Markethill man Scott Bailey collected the Chairman's Cup for winning the Grade C blue class at Leitrim and the Grade C James Mullan Cup.
The other trophies on the night were the John Herron Cup, for a Grade A rider at the club's Leitrim race, and it was collected by Melvyn Adair on behalf of his son Ryan.
Not collected on the night the Harry Palmer Memorial Cup was won by Grade C rider Mark McLernon, from Hillsborough, and the Harry Palmer Perpetual Cup went to Newtownards man Jordan Scott for results in the Grade B class at Leitrim.
Two remaining James Mullan Cups were won by Grade A rider Gary Gibson, from Ballygowan, and Grade B rider Luke Smith, from Millisle.
The club also recognised some of the people and organisations that have helped them with their annual charity event since it was first held in 2007.
Mourne club Chairman Billy McLarnin, presented the special awards to Arthur McMullan on behalf of Peak Performance Motor Club, Gerry McMullan collected the award for the Ballynahinch Lions, Michael Taylor of MST Transport and the fourth award was for Keith Cullen of Herrons CFC, Ballynahinch, who was unable to attend.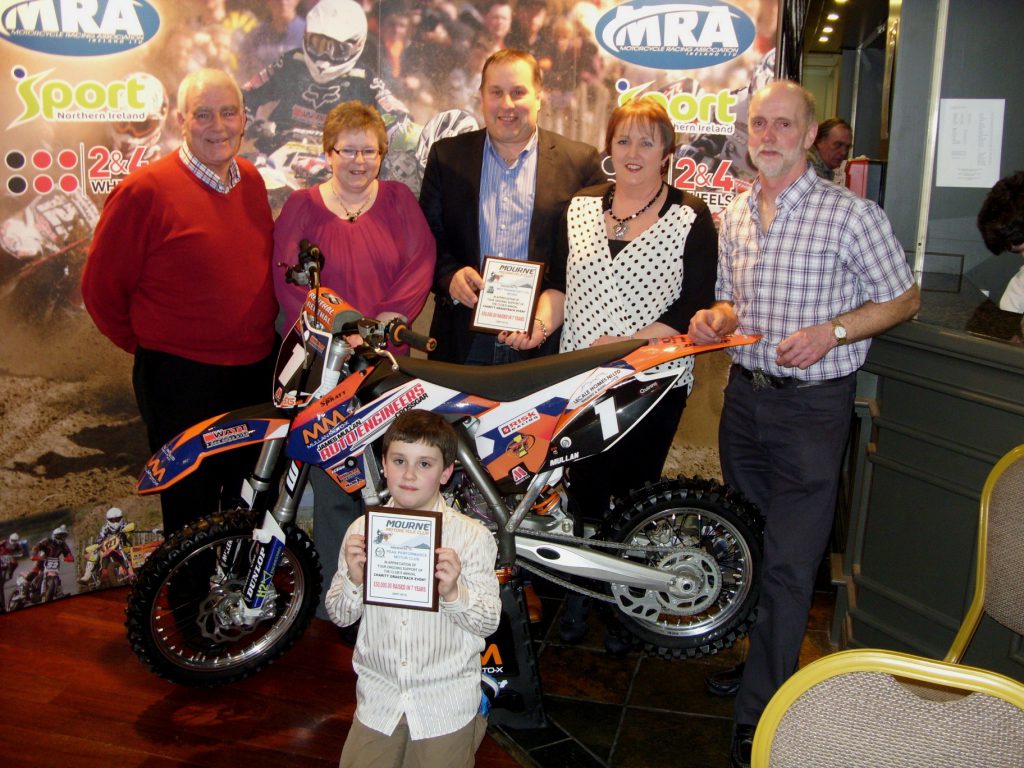 Club President, Junior Burrows with (L to R) Liz Patterson, Michael Taylor (M.S.T. Transport) Alison Taylor, Arthur McMullan; (front) Adam McMullan… Receiving awards for special recognition for their support at the clubs annual Charity Grasstrack