By Stuart Campbell
Charitable motocross will return to Ballynahinch on Wednesday, June 21, when the Mourne Motorcycle Club hold their annual event for local charitable causes.
The event will be held at Mill Bridge outside the town and this year the money raised from the event will be shared between the Air Ambulance Service and injured motocross rider Wayne Garrett, from Comber.
This year will be the eleventh year in a row that the Mourne club has held the event, which has seen them raise more than £65,000 for twenty different charitable causes since 2007.
Speaking at the launch Rodney Connor, who is one of five trustees for the Air Ambulance Service, explained that there were the 36 HEMS (Helicopter Emergency Medical Services) in the UK, but none in Northern Ireland, and they had been trying to get one here for five years.
Mr Connor said, "the quicker you can get a person to that trauma centre, then the better their chances.
"Clinicians believe that 15-30 people will be saved a year and it will benefit 300 people, who can be helped a lot better from it each year," he said.
The aim was to have a service that is not Belfast based, as it was felt that people in rural areas are most in need of the service. There will be two helicopters, one based at the Maze at the main HEMS base, and a second based in Enniskillen.
Paramedics have already been taken on to work on the new service, so once work on the two sites and training is complete it is hoped that the new service will be available from the end of July.
After the plans for a new Air Ambulance Service had been outlined, Wayne Garrett spoke about how he had had benefited from the service after his accident, when he was airlifted from a motocross track to hospital at Dublin in eight minutes.
Wayne said, "an ambulance wouldn't have gotten me there that quickly and who knows, I may not have been here for the injuries that I had."
After spending seven weeks in hospital in Dublin, Wayne was moved back to a spinal ward in Belfast and now that he has been discharged, he is staying optimistic and doing everything that he can to try to walk again.
Wayne said, "I have one chance to do all that I can to help myself and I wouldn't just sit at home feeling sorry for myself.
"When the accident happened, people said that's you done. But I have taken my drive and motivation from the idea of walking back into the Musgrave and people not recognising me and asking who are you," he said.
The evening of racing will start at 6pm on June 21, with solo motorbikes, sidecars, classic bikes and quads all competing in different classes. Before the racing begins Uncle Hugo will be at The Square, Ballynahinch, entertaining the town with his road show and drumming up support for the event.
The Mourne club will also be helped by The Ballynahinch Lions, Herrons Country Fried Chicken and Cafe Rossi on the day.
Speaking at the launch Mourne Motorcycle Club Chairman Billy McLarnin said, "Every year we always arrive at the right charitable causes to benefit from the event and after listening to Rodney and Wayne, we can see that we have done it again.
"We don't want the money that we raise to go into a big pot, but to be used locally.
"The Air Ambulance is for everyone and while we hope that we don't need it, we know that it will be there. I have known Wayne since he was a boy and he started racing and we are happy to do anything that we can to help him," he said.
Charity event history
The idea for a charity event started when Mourne club member Andrew Shields, from Kilkeel, suggested raising funds for the ambulance services that help at the club's races.
Plans for a fundraising event had begun, but tragic circumstances changed who the club raised money for the first year.
Following the passing of Andrew and Alison Shields youngest son, Kyle, from Sanfilippo Syndrome on October 13, 2006, (five days before his 14th birthday on October 18) the club decided to raise money for Northern Ireland Children's Hospice in Belfast, which had provided so much care for Kyle during his short life.
Away from the Mourne club, Alison Shields wrote 'Kyle – A mother's love in action', from a diary she had kept during the years of Kyle's illness, with the proceeds going to Horizon House, Northern Ireland Children's Hospice.
The Mourne club's first charity event was held on May 22, 2007, and they have been helped every year by Ballynahinch Lions and Keith Cullen of Country Fried Chicken, Ballynahinch, who has supplied trophies for the race winners.
The charities and causes that have benefitted from the Mourne club's charity events so far have been:
* 2007 – Northern Ireland Children's Hospice, Belfast.
* 2008 – Northern Ireland Kidney Research Fund and Marie Curie Cancer Care.
* 2009 – Tiny Life and Autism Northern Ireland.
* 2010 – Montalto Medical Centre and Friends of Cancer Centre.
* 2011 – The British Red Cross and St. Johns Ambulance.
* 2012 – Cash for kids and The Reece Burrows Cerebral Palsy Fund.
* 2013 – The Lucy Parke Appeal and Grove House, Ballynahinch.
* 2014 – The Ballynahinch Branch of Cancer Research and the Mitre Trust Spinal Injuries Unit, Musgrave Park Hospital.
* 2015 – Macmillan Nurses and Help for Emma.
* 2016 – Camphill Community Mourne Grange and the Newcastle Station of the RNLI.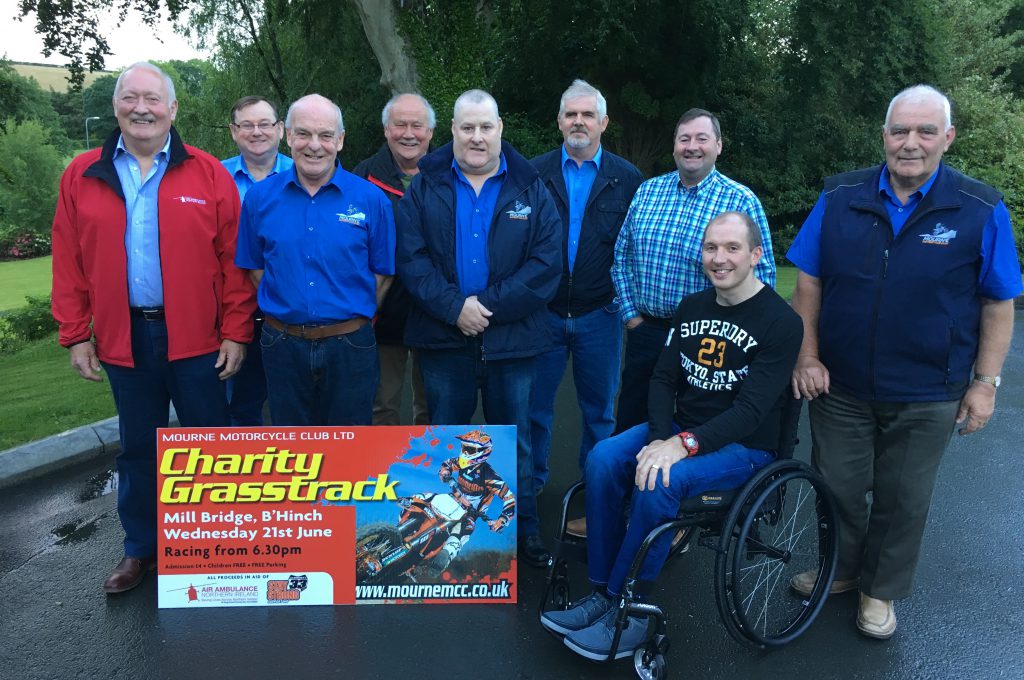 Picture caption: L to R – Rodney Connor; Air Ambulance NI, Jim Boyd, Billy McLarnin; Mourne MCC Chairman, Jimmy Green, Tommy Sloan, Richard Portis, Andrew Shields, Wayne Garrett, Junior Burrows; Mourne MCC President.