By Stuart Campbell
The Mourne Motorcycle Club kick-started the 2017 off-road racing season on Saturday, by hosting a cross-country racing event at Dunmore Mountain, Spa. The club held the first round of the Foyle/HTM Offroad Cross-Country Championship, which was the first round of the championship ever held in County Down.
There were two races on the day, both lasting for two hours, and the first class to the line was the Clubman class. Eighty riders were taking part in the first race of the day and at the end of the first lap Carrickfergus rider Jonathan Robb led Moira man Gareth Hoare at the front of the pack. Robb held the lead until they approached the halfway stage, when Hoare recorded faster lap times and moved into first position. The front two riders lap times were between nine and ten minutes during the early stages of the race, but on lap twelve Hoare lost three minutes to Robb, which helped Robb to take the win after he had completed thirteen laps. The final rider to complete thirteen laps was Armagh rider Simon Todd, who came home in third position.
The combined Experts and Seniors (for Grade B riders) class was second to the line, with the 2017 Champion Harold Crawford, from Moneyreagh, ready to defend his Experts title. Thirty riders left the line, with the Moneyreagh man in second place behind Omagh rider Barry Donaghy and the two men led the pack throughout the two-hour race. In the first hour-and-a-half of the race the two men changed places as they tried to find faster lines to gain an advantage. At the half-way mark in the race Crawford had moved in the lead, before Donaghy repassed him and pulled away in the final half an hour. Donaghy was the last man to pass the finishing line before the two-hour mark which ended the race, leaving him to complete a fifteenth lap as Crawford earned a second-place finish when he completed his fourteenth lap. The front men were followed home by Comber man David Russel in third position and Crossgar's Joel Brown who came home in fourth. In the Seniors class Kilkeel man Christopher Cully finished in second place behind Tandragee's Red Odgers, with Carrickfergus man Josh Caldwell coming home in third position. The front three riders had completed thirteen laps at the end of the race, as Killyleagh man Stephen Simpson finished in 13th position when his race ended after eight laps and Crossgar's George McMillen came home in 15th position despite his race ending after six laps.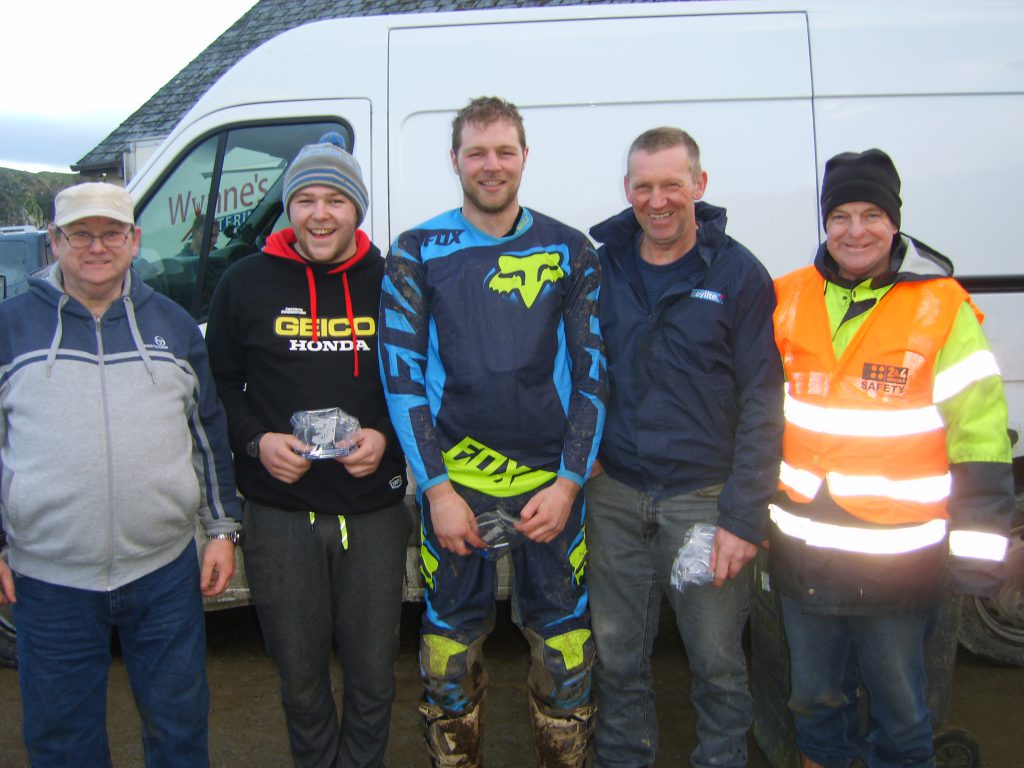 Picture caption – L to R: Ballynahinch man Jim Boyd, Clerk of the Course at Dunmore, David Russell, Omagh man Barry Donaghy who won the Expert's class, Moneyreagh's Harold Crawford and Mourne Motorcycle Club Chairman Billy McLarnin.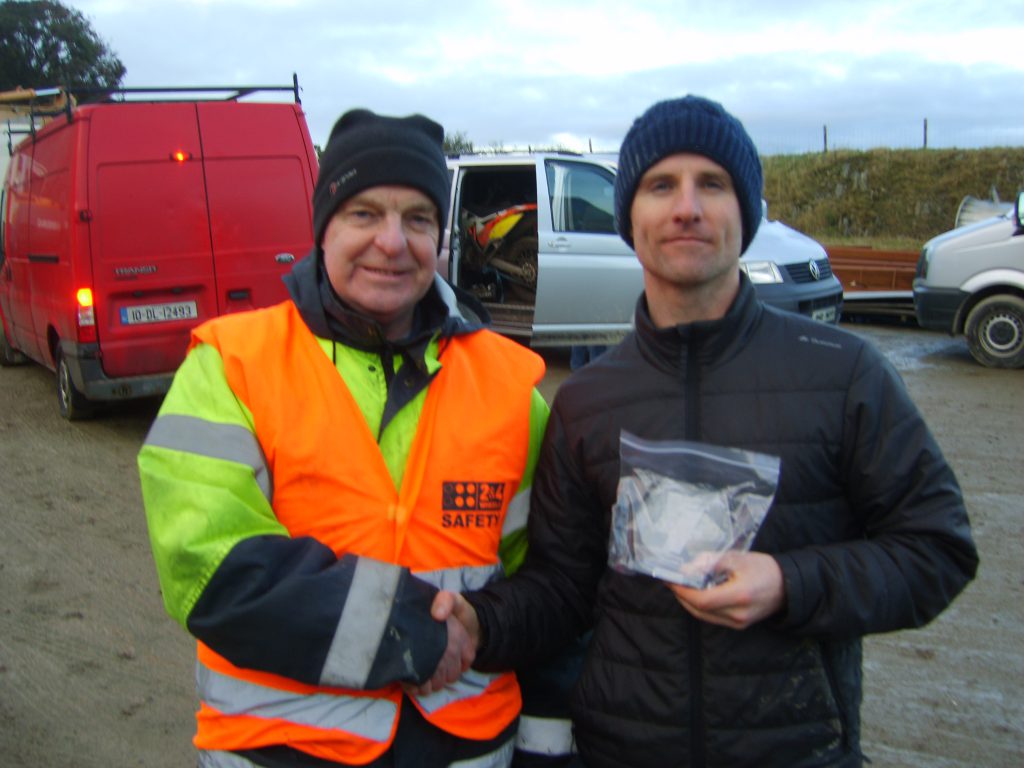 Picture caption – L to R: Mourne Motorcycle Club Chairman Billy McLarnin with Clubman winner Jonathan Robb.