The club's cross-country team hosted their latest winter event at Dunmore Mountain on Saturday 3rd November 2012.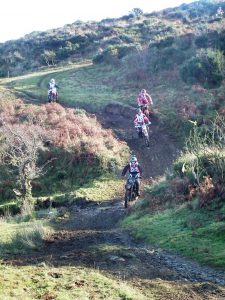 After the cancellation of the first round due to bad weather and despite the poor weather leading up to this event, the track was in great condition for the 56 riders taking part in the two-hour race.
The Experts set off at the front of the pack with Saintfield's Gary Bell and Crossgar man Joel Brown leading the way for the first four laps. Then on lap five Killinchy's Paul McMinn moved to the front and led all the way to the chequered flag followed byBellin second and Brown in third position after eleven laps. Larne man Josh Caldwell, who completed ten laps, won the Clubman's class.
Results will be posted over the next few days.