The club has continued its successful charity work, raising £6,500 at its ninth annual charity motocross event… by Stuart Campbell
Each year the club picks two charities that have touched the lives of club members, their families, or the community and this has led to it presenting more than £60,000 to 17 different charities and charitable causes since 2007.
Mourne club Chairman Billy McLarnin said, "Once again this is an amazing amount of money for any sports club to raise, especially for what might be considered a smaller sport like motocross."
"I would like to thank everybody who helped to organise the event, the riders who took part, the spectators and everyone who donated to make it another successful year."
"Each year we try to choose local charities or causes that are close to the club. We were delighted to help Macmillan Nurses who do so much to help people at their time of need and Emma Hamilton, whose father Nigel is a well-known club member."
"I know that everyone in the club is proud of what we have achieved in the last nine years and we hope to continue fundraising and giving something back to the community every year," he said.
This year monies raised have been shared between Macmillan Nurses, which helps people and families throughout the country, and Help for Emma.
On March 4, 2014, twin girls Emma and Katie Hamilton, from Kilmore, were born in the Royal Jubilee Maternity Hospital.
Katie weighed just 2Ibs 12ozs at birth and spent her first two months in hospital, but Emma was not discharged for nine months as she was born with a rare condition known as Congenital Central Hypoventilation Syndrome (CCHS).
CCHS is a rare genetic condition where the brain does not tell the lungs to breathe during sleep, although it can also occur with some individuals when they are awake.
Now Emma depends on a ventilator for her breathing and she is continuously monitored to ensure her oxygen and carbon dioxide levels are maintained at a safe level.
Approximately 1,000 people are known to have condition worldwide; with less than 100 people in the UK and Emma is one of two children affected by the rare condition in Northern Ireland.
Charity event history
The idea for a charity event started when Mourne club member Andrew Shields, from Kilkeel, suggested raising funds for the ambulance services that help at the club's races.
Plans for a fundraising event had begun, but tragic circumstances changed who the club raised money for the first year.
Following the passing of Andrew and Alison Shields youngest son, Kyle, from Sanfilippo Syndrome on October 13, 2006, (five days before his 14th birthday on October 18) the club decided to raise money for Northern Ireland Children's Hospice in Belfast, which had provided so much care for Kyle during his short life.
Away from the Mourne club, Alison Shields wrote 'Kyle – A mother's love in action', from a diary she had kept during the years of Kyle's illness, with the proceeds going to Horizon House, Northern Ireland Children's Hospice.
The Mourne club's first charity event was held on May 22, 2007, and they have been helped every year by Ballynahinch Lions and Keith Cullen of Country Fried Chicken, Ballynahinch, who has supplied trophies for the race winners.
The charities and causes that have benefitted from the Mourne club's charity events so far have been:
* 2007 – Northern Ireland Children's Hospice, Belfast.
* 2008 – Northern Ireland Kidney Research Fund and Marie Curie Cancer Care.
* 2009 – Tiny Life and Autism Northern Ireland.
* 2010 – Montalto Medical Centre and Friends of Cancer Centre.
* 2011 – The British Red Cross and St. Johns Ambulance.
* 2012 – Cash for kids and The Reece Burrows Cerebral Palsy Fund.
* 2013 – The Lucy Parke Appeal and Grove House, Ballynahinch.
* 2014 – The Ballynahinch Branch of Cancer Research and the Mitre Trust Spinal Injuries Unit, Musgrave Park Hospital.
* 2015 – Macmillan Nurses and Help for Emma.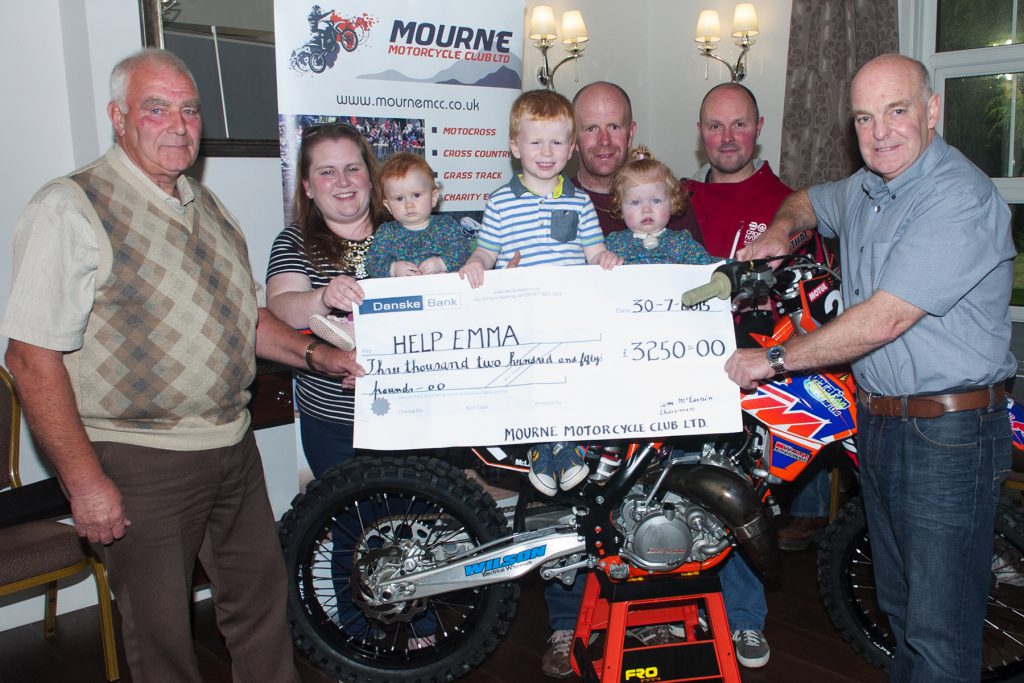 Members of the Hamilton family accept a cheque for £3,250 from Mourne Motorcycle Club at a presentation held at the Millbrook Lodge Hotel, Ballynahinch, on Thursday evening. The money was presented to the Help Emma Appeal. Included with Emma (third right), who suffers from CCHS, is mum Patricia Hamilton and dad Nigel, with Emma's twin Katie and brother Ryan alongside club president Junior Burrows (left), motocross rider Andrew Simpson and club chairman Billy McLarnin (right).
Photo © Raphael Mason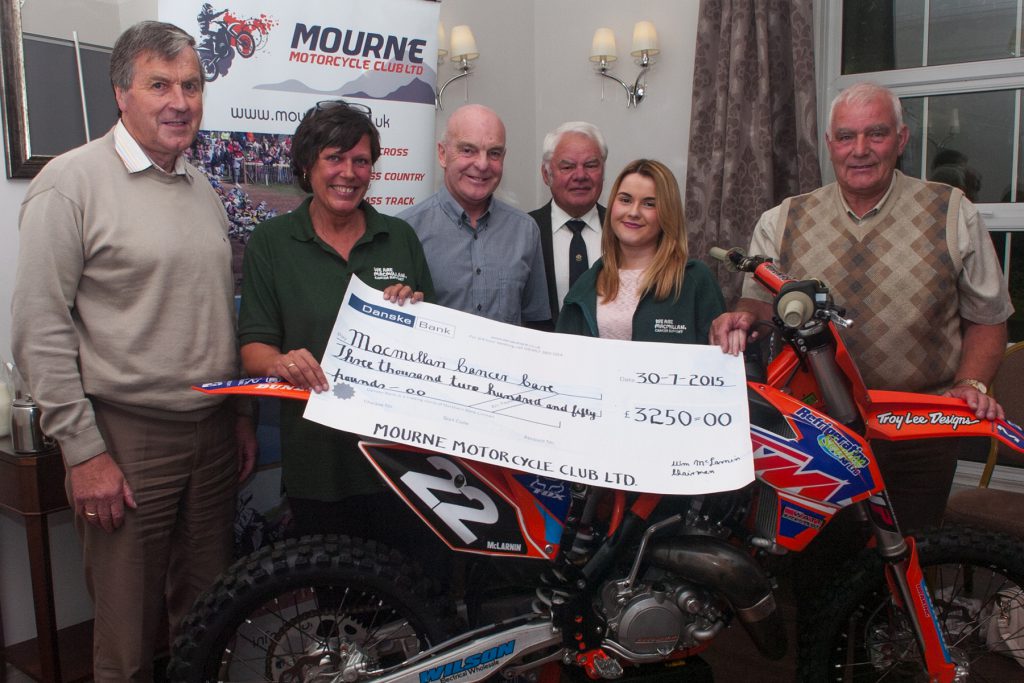 MacMillan Cancer Care representatives Joanne Young (second left) and Gemma Ross receive a cheque for £3,250 from members of Mourne Motorcycle Club. Included is club treasurer George Porter (left) alongside chairman Billy McLarnin, president Junior Burrows (right) and Jimmy Anderson (third right) of Ballynahinch Lions Club.
Photo © Raphael Mason
Again a big Thank-You to all who made these amounts possible!