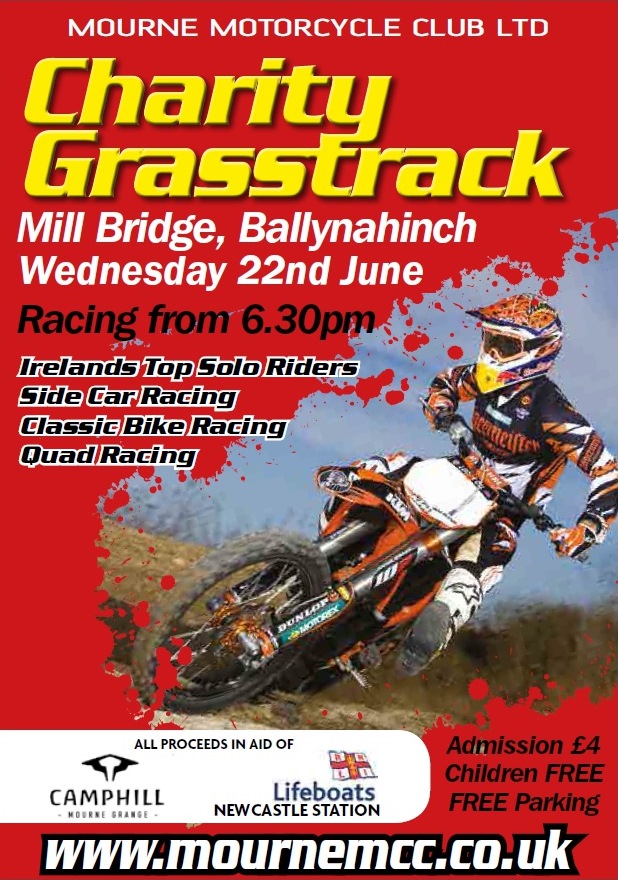 A good insight into this years event and a recap of the nine years past by Stuart Campbell…
In 2015 the club continued its successful charity work, raising £6,500 at its ninth annual charity grasstrack event.
Each year the club picks two charities that have touched the lives of club members, their families, or the community and this has led to it presenting more than £60,000 to seventeen different charities and charitable causes since 2007.
Now in our tenth year, the club has decided to raise monies for Camphill Grange House, to which a club member's family has close ties, and RNLI Lifeboats Newcastle Station, which is an invaluable asset to our local community that we are pleased to be supporting.
Speaking after the event in 2015 Mourne club Chairman Billy McLarnin said, "Once again this is an amazing amount of money for any sports club to raise, especially for what might be considered a smaller sport like motocross."
Each year we try to choose local charities or causes that are close to the club. We were delighted to help Macmillan Nurses who do so much to help people at their time of need and Emma Hamilton, whose father Nigel is a well-known club member.
"I know that everyone in the club is proud of what we have achieved in the last nine years and we hope to continue fundraising and giving something back to the community every year," he said.
History…
The idea for a charity event started when Mourne club member Andrew Shields, from Kilkeel, suggested raising funds for the ambulance services that help at the club's races.
Plans for a fundraising event had begun, but tragic circumstances changed who the club raised money for the first year.
Following the passing of Andrew and Alison Shields youngest son, Kyle, from Sanfilippo Syndrome on October 13, 2006, (five days before his 14th birthday on October 18) the club decided to raise money for Northern Ireland Children's Hospice in Belfast, which had provided so much care for Kyle during his short life.
Away from the Mourne club, Alison Shields wrote 'Kyle – A mother's love in action', from a diary she had kept during the years of Kyle's illness, with the proceeds going to Horizon House, Northern Ireland Children's Hospice.
The Mourne club's first charity event was held on May 22, 2007, and they have been helped every year by Ballynahinch Lions and Keith Cullen of Country Fried Chicken, Ballynahinch, who has supplied trophies for the race winners.
The charities and causes that have benefitted from the Mourne club's charity events so far have been:
* 2007 – Northern Ireland Children's Hospice, Belfast.
* 2008 – Northern Ireland Kidney Research Fund and Marie Curie Cancer Care.
* 2009 – Tiny Life and Autism Northern Ireland.
* 2010 – Montalto Medical Centre and Friends of Cancer Centre.
* 2011 – The British Red Cross and St. Johns Ambulance.
* 2012 – Cash for kids and The Reece Burrows Cerebral Palsy Fund.
* 2013 – The Lucy Parke Appeal and Grove House, Ballynahinch.
* 2014 – The Ballynahinch Branch of Cancer Research and the Mitre Trust Spinal Injuries Unit, Musgrave Park Hospital.
* 2015 – Macmillan Nurses and Help for Emma. Twin sisters Emma and Katie Hamilton, from Kilmore, were born on March 4, 2014, at the Royal Jubilee Maternity Hospital. Emma was not discharged for nine months as she was born with Congenital Central Hypoventilation Syndrome (CCHS). CCHS is a rare genetic condition where the brain does not tell the lungs to breathe during sleep, although it can also occur with some individuals when they are awake. Now Emma depends on a ventilator for her breathing and she is continuously monitored to ensure her oxygen and carbon dioxide levels are maintained at a safe level.
Entries for this event are now available, online and via download form for posting… Get them in quick to avoid disappointment as this event is always mega popular and attracts from near and far.