The Mourne Motorcycle Club is proud to have held its fifth annual charity motocross event in 2011. The event was held at the Millbrook Lodge Hotel (Ballynahinch) on Wednesday, June 22, to raise monies for two organisations that are close to the heart of all motocross riders.
In 2011 the Mourne club chose to raise monies for the British Red Cross and the St Johns Ambulance, who are two of the most important groups in attendance at all off road events, as they are always on hand to help injured riders.
This year the Mourne club hoped to carry on the excellent work from the first four years of the event, which has seen the club collect a total of over £30,000.
Everyone in the club was happy to see that despite the credit crunch, with many competitors unable to take part, we were still able to make a total of £4,500 from the event. This means that we are proud to be able to present the St Johns Ambulance and the British Red Cross each with a cheque for £2,250.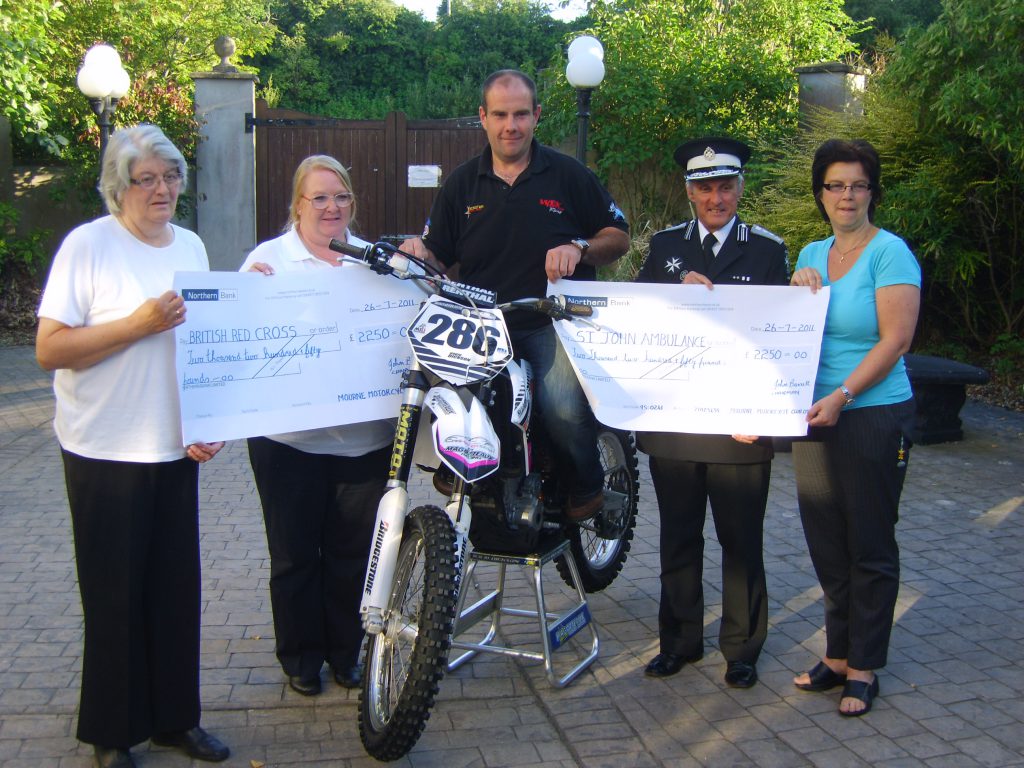 Pictured above are as follows: (left to right) May Kincaid, Jennifer Watson from the British Red Cross, Mourne Motorcycle Club chairman John Bassett, John Williams and Susan Conn from St Johns Ambulance.
In five years of holding charity events the Mourne club has now raised monies for;
•             2007 – Northern Ireland Children's Hospice in Belfast.
•             2008 – Northern Ireland Kidney Research Fund and Marie Curie Cancer Care.
•             2009 – Tiny Life and Autism Northern Ireland.
•             2010 – Montalto Medical Centre and Friends of Cancer Centre.
•             2011 – British Red Cross and St Johns Ambulance.
The Mourne club would like to thank the Ballynahinch Lions, who were out again this year to help to promote and collect money at the event, as they have done since the first charity event in 2007.
The Mourne club was also helped by The Millbrook Lodge Hotel; Keith Cullen from Country Fried Chicken in Ballynahinch, who sponsored the trophies for the event again this year; Michael Taylor from MST Transport, who will brought lorries along for the event; Arthur McMullan and Peak Performance Car Club, who showed off their cars on the night and Ballynahinch United Football Club who provided car parking on their grounds.