The Mourne Motorcycle Club held its sixth annual charity motocross event on 20th June 2012, to raise monies for Cash for Kids and The Reece Burrows Cerebral Palsy Fund.
This year the members of the Mourne club are delighted to say that we have raised a total of £6000, which means that we have been able to present both charities with a cheque for £3000 each
This year the Mourne Motorcycle Club would also like to thank The Ballynahinch Lions Club, Ballynahinch United Football Club, Gascon Ice-cream, Herrons Country Fried Chicken; Ballynahinch, who donate the trophies every year, Fish City; Ballynahinch and of course the Millbrook Lodge for their help with the event.
The annual charity event may have been a new idea within the club, but this year we are pleased to have carried on the great work which has now seen us hand over a total of £45,000 to the charities we have been involved with in the last six years.
The charities that the Mourne club has been raising money for are:
* 2007 – Northern Ireland Children's Hospice in Belfast.
* 2008 – Northern Ireland Kidney Research Fund and Marie Curie Cancer Care.
* 2009 – Tiny Life and Autism Northern Ireland.
* 2010 – Montalto Medical Centre and Friends of Cancer Centre.
* 2011 – The British Red Cross and St Johns Ambulance.
* 2012 – Cash for kids and The Reece Burrows Cerebral Palsy Fund.
Photo caption: (L to R) Dawn Burrows (Reece Burrows mother), John Bassett (Mourne Motorcycle Club Chairman), Darren Fowler (Cash for Kids) and George Porter (Mourne Motorcycle Club Treasurer)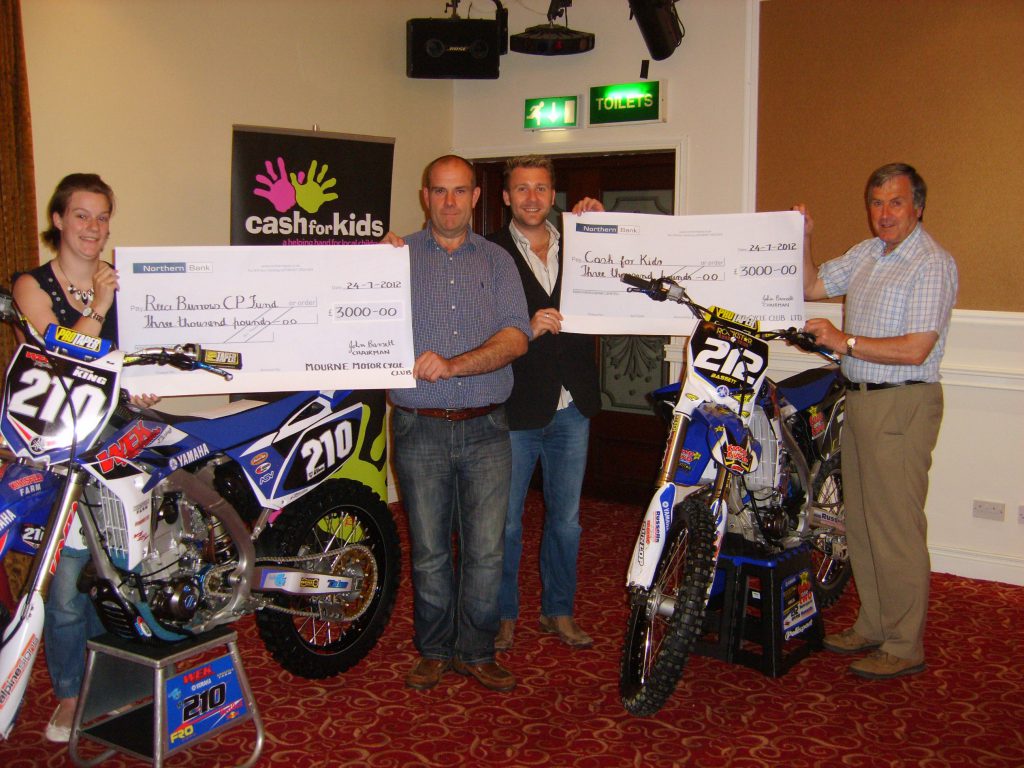 Photo © Stuart Campbell
Again a big Thank-You to all who made these amounts possible!