Wednesday 20th June 2012 was our 6th Annual Charity Grasstrack event to this year raise money for the Reece Burrows Cerebral Palsy Fund and Cool FM's Cash for Kids. The night was once again an overhelming success, with record crowds in attendance!
We would like to thank all those people who came along to spectate and enjoy a great night out. Also to the riders who form the main attraction on the night, some excellent racing took place in all classes, with a massive 24 races being run in slick fashion as always.
We are indebted to the continued support from our sponsors who come back year after year to support us, they are Country Fried Chicken, Ballynahinch; Cafe Rossi, Ballynahinch; Millbrook Lodge Hotel, Ballynahinch; Sam Robinson Printing & Business Systems; Ironside Trophies & Engraving; Douglas Autoparts, Ballynahinch; and Norspace. With the support of these local businesses, all money raised is donated to the chosen charities.
We would also not be able to run the event without help from many people in the background, who do a very major jobs where most do not realise: Mr Roy Neill, Commentator; Liz Patterson & Anne McLarnin, the Secretaries, Signing-on and Timekeeping team; The First Aid Personnel; and the Press.
Grade A/B Start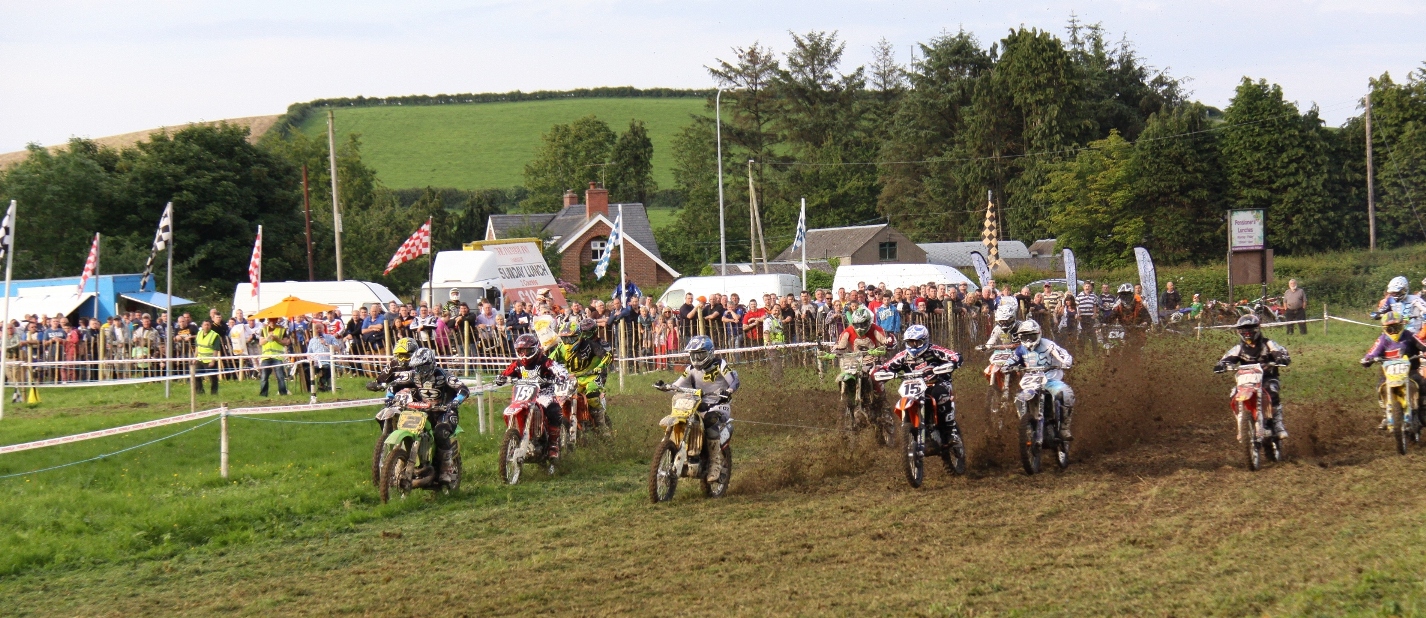 Photo © Pat Kelly
Brilliant crowds line the trackside spectator areas
Prize Winners on the night with Judith McDowell (Cash for Kids) & Dawn Burrows (mother of Reece Burrows)
Photo © Stuart Campbell
(There will be more photos uploaded over the coming week, please check back regularly)
We will be announcing the total amount raised for the two charities in the coming days, and will be handing over cheques to the Reece Burrows Cerebral Palsy Fund and Cash for Kids.
Results are now available under the results tab, or by clicking here
Again a big Thank-You to all who made our 2012 Charity Grasstrack a revving success!