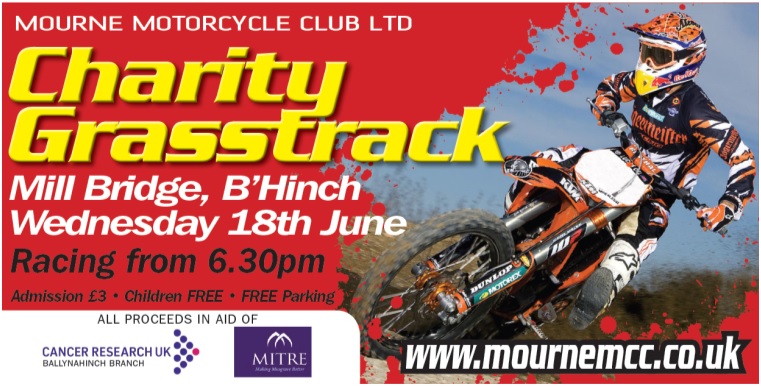 The club will hold its 8th Annual Charity Grasstrack event on Wednesday 18th June 2014 at the new venue of Mill Bridge, Ballynahinch. This is directly opposite the old venue at Millbrook Lodge Hotel.
This year we are raising funds for two more worthwhile charities; Cancer Research UK, Ballynahinch Branch and the MITRE Trust Spinal Injuries Unit at Musgrave Park Hospital, Belfast. Since the first event in 2007 the club has raised over £50,000 for 13 different charities, below is a list of those which have benefitted:
2007 – Northern Ireland Children's Hospice in Belfast
2008 – Northern Ireland Kidney Research Fund and Marie Curie Cancer Care
2009 – Tiny Life and Autism Northern Ireland
2010 – Montalto Medical Centre and Friends of Cancer Centre
2011 – The British Red Cross and St. Johns Ambulance
2012 – Cash for Kids and The Reece Burrows Cerebral Palsy Fund
2013 – The Lucy Parke Appeal and Grove Day Care Centre, Ballynahinch
In all these years, we have been supported by the Ballynahinch Lions Club and Keith Cullen of Country Fried Chicken, Ballynahinch, who supplies the trophies for the night. Once again this year both parties will be on board and their help is much appreciated.
Plans for Wednesday 18th June are very much well underway. The press launch took place on Wednesday night past. (June 4th) As with previous years, we will not only have the grasstrack racing to look forward to. We will have displays of classic cars and motorcycles, along with custom trucks. Face painting will also be on hand to keep the kids entertained.
We will be having Grade A, Grade B and Grade C solo classes (entries will be limited to 60 Grade C competitors, first come first served basis) There will also be classes on the night for Quads, Sidecars and Evo's in our racing programme.
Online entry for this event is now open, please click here. It is possible to download a paper copy, but we would encourage as many as possible to enter online. Get your entries in quickly, as we always have a big demand for this event and can only cater for limited numbers in each class.