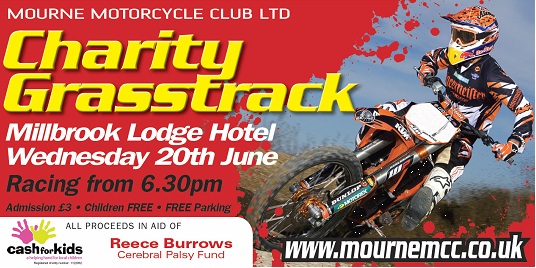 Wednesday 20th June 2012 is the date for our 6th Annual Charity Grasstrack at the Millbrook Lodge Hotel, Ballynahinch. Over the last six years we have raised over £35,000 for a number of various charities close to the hearts of our club members and their families. This year is no different, as we have choosen two charities once again, The Reece Burrows Cerebral Palsy Fund and Cash for Kids in promotion with Cool FM.
Below is a few paragraphs to give everyone a brief insight into each of these very worthwhile charities that will benefit from our event.
Reece Burrows and his twin brother Seth were born on 31st May 2010, 4 weeks early.  However at 3 weeks old they contracted a virus which left them fighting for their lives.  Reece was affected the worst out of the two boys and ended up in Peadiatric Intensive Care Unit for a week and a further 2 weeks in the RVHSC Belfast.  This was to be the first of many hospital stays for Reece. As a result of the virus Reece has been left severely brain damaged and among other things has cerebral palsy, he has severe visual impairment and he is tube fed for 22 hours a day into his small intestine as his stomach function has failed.

For all of Reeces problems he is a very happy and in his own way, affectionate child, who most of the time is in his own wee world. Development wise he is still at early baby stage in most aspects of his life, but we no longer live our lives in advance as you never no what might happen, which not only impacts Reece but his twin and older brother too. We also no longer live by Reece's diagnosis and just take each day as we find it, he has proved doctors wrong before with his progress. Therefore anything that we can do to help stimulate and help him achieve these goals we will do so to the best of our ability.

Cash for Kids is the official charity of Downtown Radio and Cool FM. Our mission is to raise money for the thousands of disadvantaged children inNorthern Irelandwho are need our support. Funds raised will be distributed and directly benefit children and young people aged 0-17, with a focus on alleviating disability, combating illness, improving quality of life as well as encouraging personal development and aspirational fulfillment. Cash for Kids welcomes grant applications from a variety of projects and appeals in Northern Ireland.

Cash for Kids also supports other children's charities throughout Northern Ireland and has donated substantial funds to charities including the NI Children's Hospice, NSPCC's ChildLine,Royal Belfast Hospital for Sick Children and Clic Sargent. For more information on how Cash for Kids helps; please click here
The wheels have already been very much set in motion for this years event and months of planning is coming together well. As with previous years, we will not only have the grasstrack racing to look forward to. We will have displays of classic cars and motorcyles, along with custom trucks. Face painting and possibility a bouncy castle will also be on hand to keep the kids enterained.
We have the usual Grade A, Grade B and Grade C solo classes (entries will be limited to 60 Grade C competitors, first come first served basis) There will also be classes on the night for Quad, Sidecar and the addition of an Evo class to our racing programme. This year we are asking ALL solo competitors if they could enter the paddock parking at the rear of the hotel via the Spa Road entrance which will be clearly signposted on the night. (A map will be uploaded in the coming weeks before the event)
Entry Forms for this event are now available to download; please click here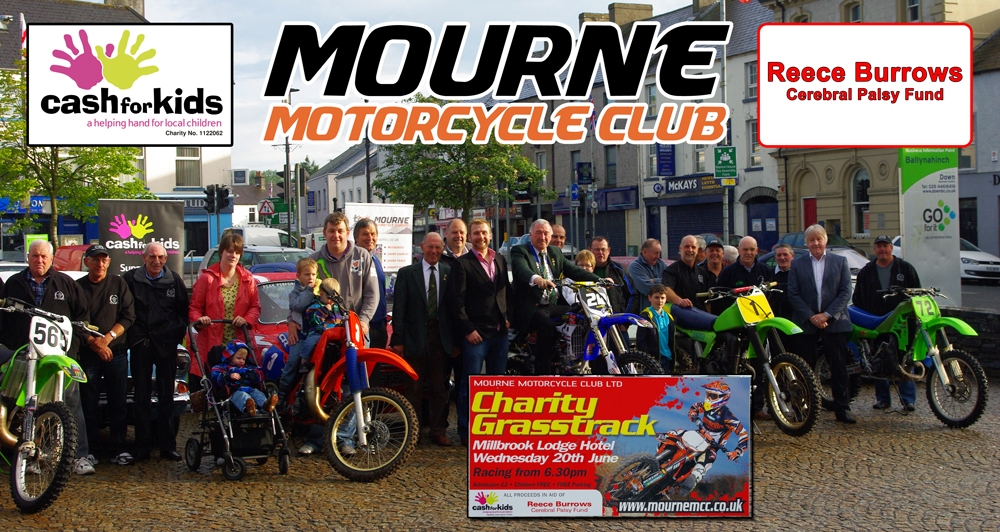 Photo © Richard Scott