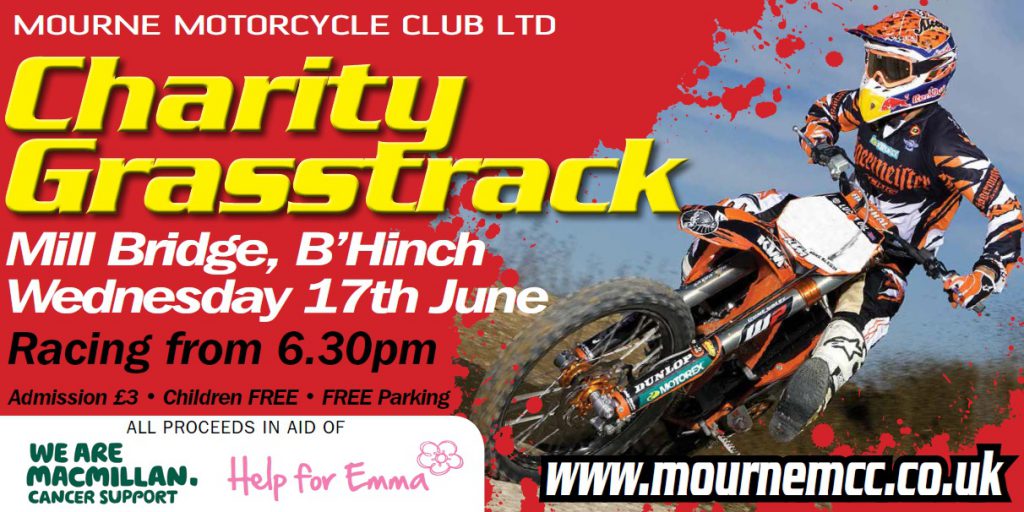 Admission £4 minimum donation (typo on signage)
The Mourne Motorcycle Club will continue its impressive charitable work, with our  9th annual charity event on Wednesday 17th June 2015 at the Mill Bridge, Ballynahinch, County Down.
So far the club has raised more than £55,000 for a variety of charities and charitable causes and they hope this year will be no different.
This year all money raised will be donated to Macmillan Cancer Support and one-year-old Emma Hamilton from Kilmore, County Down who is a daughter of one of our club members.
While the good work of the Macmillan Nurses does not need much explanation, young Emma's story should be told especially.
Emma and her twin sister Katie were born in the Royal Jubilee Maternity Hospital, Belfast, on 4th March 2014. Katie spent her first two months in hospital as she weighed just 2Ibs 12ozs at birth, but Emma, born with a rare condition known as Congenital Central Hypoventilation Syndrome (CCHS), was to spend 9 months in hospital before being discharged to her home in Kilmore. CCHS is a rare genetic condition where the brain does not tell the lungs to breathe during sleep, although it can also occur with some individuals when they are awake. Now Emma depends on a ventilator for her breathing and she is continuously monitored to ensure her oxygen and carbon dioxide levels are maintained at a safe level. Less than 100 UK families live with CCHS and Emma is one of two children affected by the rare condition in Northern Ireland. There are approximately 1,000 people known to have the condition worldwide. With this condition in mind, the club are donating half the proceeds to Help for Emma, this will be used whatever way Emma's parents see fit and helpful to assist her with equipment or support for her condition.
Macmillan Cancer Support provides much needed care and support to individuals and their families facing cancer. No one should face cancer alone. So when they need someone to turn to, Macmillan is always there. Right from the moment of diagnosis, through treatment and beyond, there're a constant source of support, giving the energy and inspiration to help take back control of their life. Some of the club members families have seen first hand the excellent support and work that Macmillan provide when needed. For this reason we feel the other half the proceeds from this years grass track is to be donated to this worthy cause.
This years event will be held again at the new Mill Bridge venue in Ballynahinch on Wednesday 17th June. Racing starts at 5pm and entry to the event will cost £4 minimum donation per person.
Every year since the event began the Mourne club has been helped by the Ballynahinch Lions and Keith Cullen of Country Fried Chicken, Ballynahinch, who has supplied trophies for the races every year. This year Mr Cullen and the Ballynahinch Lions will continue to support and help the charity event.
The fifteen charities that have benefitted from the club's charity event so far have been:
* 2007 – Northern Ireland Children's Hospice in Belfast.
* 2008 – Northern Ireland Kidney Research Fund and Marie Curie Cancer Care.
* 2009 – Tiny Life and Autism Northern Ireland.
* 2010 – Montalto Medical Centre and Friends of Cancer Centre.
* 2011 – The British Red Cross and St. Johns Ambulance.
* 2012 – Cash for kids and The Reece Burrows Cerebral Palsy Fund.
* 2013 – The Lucy Parke Appeal and Grove House, Ballynahinch.
* 2014 – The Ballynahinch Branch of Cancer Research and the Mitre Trust Spinal Injuries Unit, Musgrave Park Hospital.
Entry forms are now available for this event to download online, and also in most local motocross shops. We are taking entries online as usual, and would urge as many as possible to enter by this method. Click here for all the entry information. Get your entries in quickly, as we always have a big demand for this event and can only cater for limited numbers in each class.
We will be having Grade A, Grade B and Grade C solo classes (entries will be limited to 60 Grade C competitors, first come first served basis) There will also be classes on the night for Quads, Sidecars and Evo bikes in our racing programme.
We are hoping to attract the usual array of top grade competitors, with UK motocross star Ashley Greedy already confirmed riding on a Suitor Brother's machinery. It is with our thanks to Rowly Suitor for organising to get Ashley over here to race our event. Also confirmed is Ireland's quickest man in the 4 wheeled quad division… Dean Colhoun. We hope many more will enter and come to produce some excellent racing on the night for the spectators.
Press launch for this years event took place on Thursday evening past (4th June) at the Millbrook Lodge Hotel… photo below: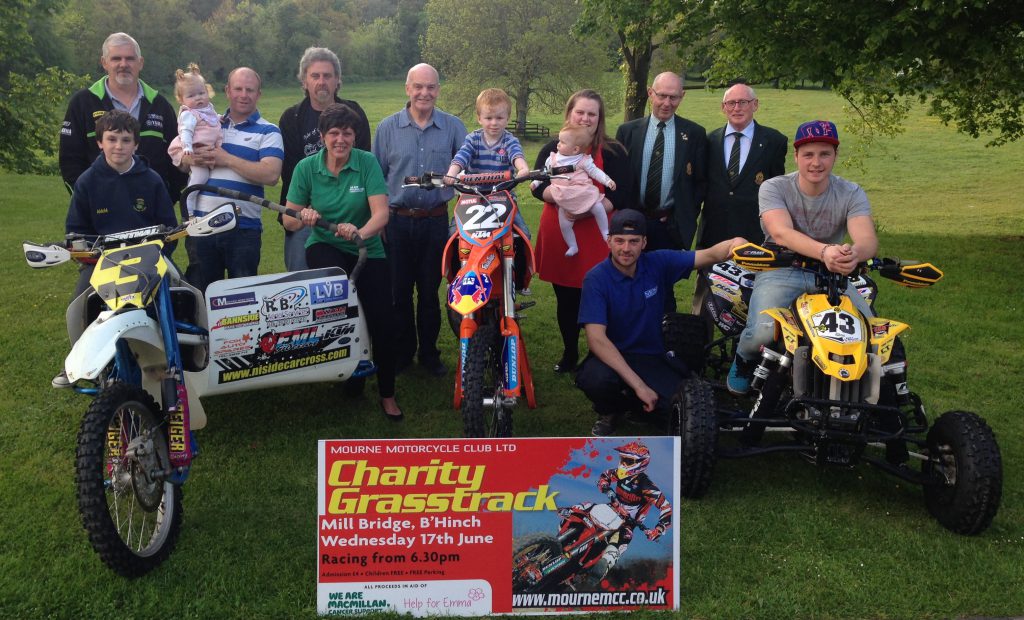 Back Row; Left to Right:
Richard Portis (Sidecar Competitor), Nigel & Emma Hamilton, Noel Burrows (Sidecar Competitor), Billy McLarnin (Mourne MCC Chairman), Patricia & Katie Hamilton, Richard Scott & Jimmy Brewster (Ballynahinch Lions Club)
Front Row; Left to Right:
Adam McMullan, Joanne Young (Macmillian Cancer Support), Ryan Hamilton (on bike), Justin Kirk and Dean Colhoun (Quad competitors)